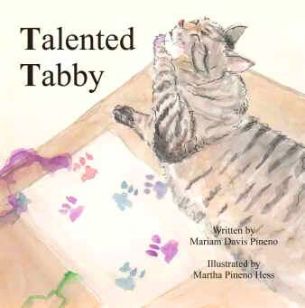 Description
Talented Tabby picture book direct from the illustrator - signed by both author and illustrator
Limited Edition: Talented Tabby, illustrated 32 page picture book created and published in the USA -- right in Pennsylvania. Limited supply of this first edition of a set of 2 tabby cat books. The book will be signed by the illustrator and author. Thank you for your support of active artists and authors.

Talented Tabby. Leo, the tabby cat, was far from ordinary. Leo (short for Leonardo da Cat) had talent. But one day this art studio OFFICIAL GREETER becomes bored. He decides to look for a real job.As readers follow him about the studio from office to waiting room (and places in between) they may wonder if lovable Leo will ever find his true talent. Or could it have been there all along?This is a limited edition book - get your copy while supplies last. A lyrical Read-to: Pre-School-Grade 1Read-Yourself: Grades 2-4 and up.Copyright 2002 ISBN 0-9721897-0-X Retail price: $11.42

The book was printed in 2002 year, Talented Tabby. Book in english language. Pineno, Mariam Davis 8 1/2" x 8 1/2." Illustrated by Martha Pineno. Self-published by illustrator, this book is a gem for cat-lovers. SIGNED BY AUTHOR AND ILLUSTRATOR. Suitable as a gift.